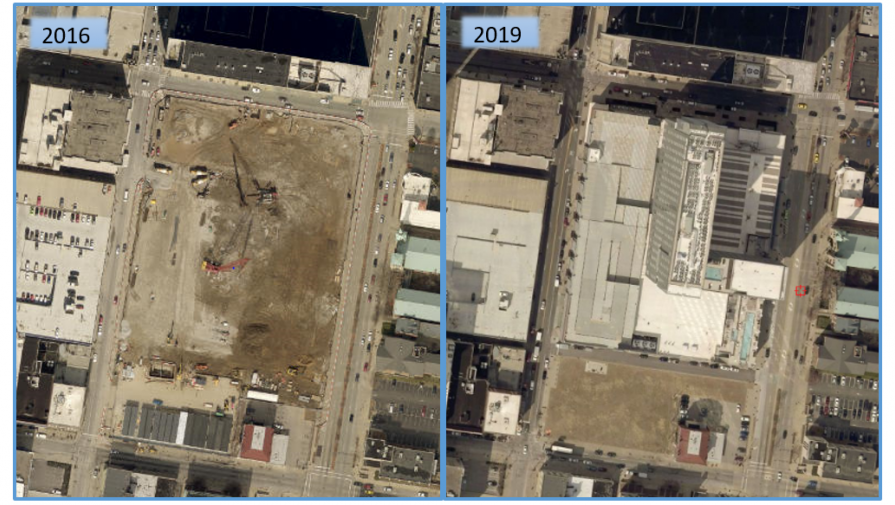 Left: 2016 imagery of the Omni Louisville Hotel construction site. Right: 2019 imagery of the completed Omni Louisville Hotel.
Acquisition of new LOJIC aerial imagery of Jefferson County was completed by EagleView this March. EagleView captured the new imagery covering nearly 500 square miles by flying 334 east-west flight lines in about 50 flight hours at an altitude of approximately 2,500 feet. The new imagery is 3-inch resolution, 4-band (red, green, blue, near infrared) and is currently being processed and ortho-rectified by EagleView for delivery and use in LOJIC by late Summer.
New imagery of Jefferson County was originally planned for Spring 2018, but bad weather conditions (2 flood events, 2 snow storms) and airspace restrictions prior to the Kentucky Derby delayed capture of leaf-off aerial imagery until this year.
The new Jefferson County imagery will be used by the LOJIC team to identify areas of change that require map updates. Planimetric data (buildings, roads, parking lots, driveways, etc.) and hydrographic data (streams, ponds, etc.) will be updated in areas of new development and major construction. Topographic data (2-foot terrain contours) will be updated over the entire county area. This updated map data should be available in LOJIC in late 2019.