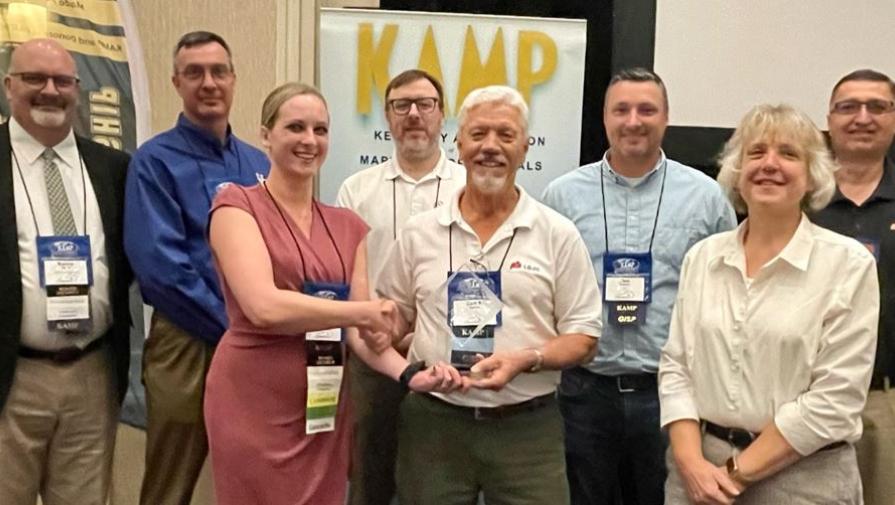 KAMP Award Presentation (L-R) Conference Chair Kenny Ratliff, KAMP President William Andrews, Awards Chair Annemarie Sacra, LOJIC's Trey Prestigiacomo, Curt Bynum, Jess Hamner, Jane Poole, Scott Dickison
During this year's Kentucky GIS Conference held in downtown Lexington the last week of September, LOJIC received the Exemplary System Award from the Kentucky Association of Mapping Professionals (KAMP). The award presentation cited LOJIC's long, successful history of interagency collaboration and model GIS partnership, its vast collection of geospatial data and rich collection of desktop and web applications that benefit the greater Louisville Metro community.
This year's conference, "A Spatial Gathering", was attended by over 200 GIS and mapping professionals from Kentucky and surrounding region and 50 GIS/Geoscience students from various Kentucky universities. The rich conference program included a suite of technical workshops, Esri's Hands-On Learning Lab, notable keynote speakers, and nearly 50 presentations by GIS professionals, consultants, vendors and educators on a wide range of GIS and spatial analysis topics, including several presentations from the LOJIC user community.
LOJIC Director, Curt Bynum, noted, "It was terrific to be with our Kentucky GIS colleagues and friends in person again. For our community's LOJIC GIS to be recognized and honored by our Kentucky peers with this award is truly special."
Current LOJIC Technical Team members include Chris Alldredge, Casey Burns, Curt Bynum, Scott Dickison, Jess Hamner. Brian Meyers, Jane Poole, Trey Prestigiacomo, Julie Price.