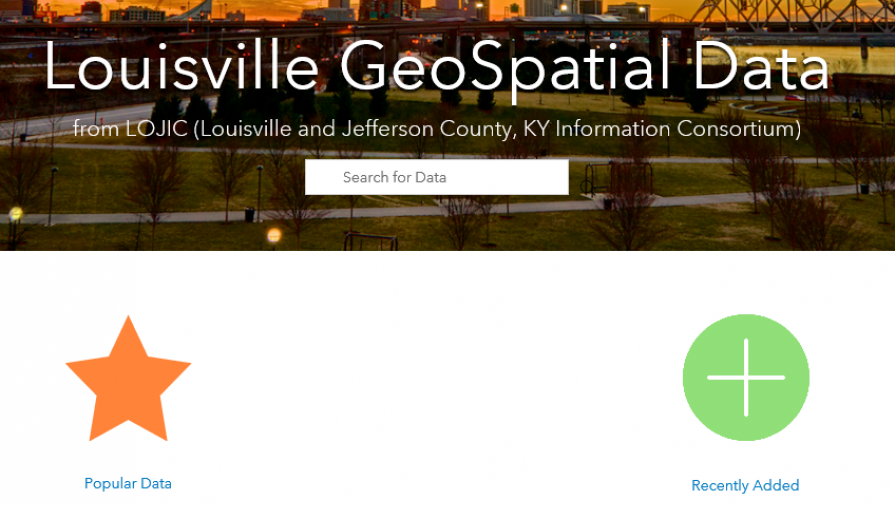 The LOJIC GeoSpatial Data Portal has been redesigned to take advantage of new technology and connections. LOJIC is still making the same geospatial data available and is continuing to add more. Recently added geospatial data includes the LouVelo Bike Share Stations and Dockless Vehicle Regulated and Restricted Areas created by Louisville Metro Public Works.
We are also adding connections to the LOJIC Map Hub, Story Maps and Map Catalog featuring apps & maps created by various agencies from Louisville Metro Government, the Louisville and Jefferson County Metropolitan Sewer District, the Jefferson County Property Valuation Administrator and the Louisville Water Company as well as apps & maps created by LOJIC Staff.
It is also connected to other open geospatial data portals, enabling users to find even more data, documents and apps & maps. Through the LOJIC GeoSpatial Data Portal users can access content from the Kentucky Geological Survey (KGS), the Kentucky Division of Geographic Information (DGI), the U. S. Department of Housing and Urban Development (HUD), the Federal Emergency Management Agency (FEMA) and the U. S. Department of Transportation (USDOT).
In the future, we hope to connect to focused initiatives that would bundle together data, documents and apps & maps pertinent to specific topics like the History of Redlining in Louisville or Dockless Vehicle Usage for easier access.
Most Accessed Geospatial Data on the LOJIC Geospatial Data Portal.