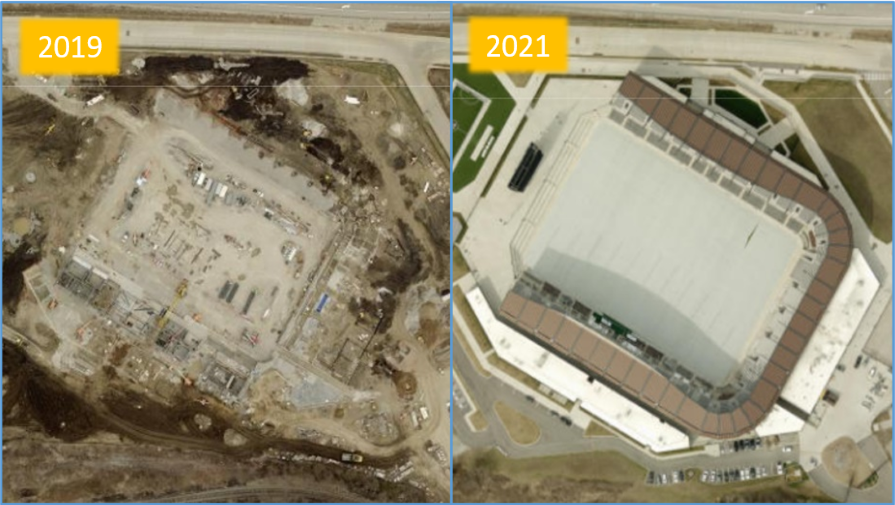 Left: 2019 imagery of the Lynn Family Stadium Site. Right: 2021 imagery of the completed Lynn Family Stadium.
New aerial imagery of Jefferson, Oldham and Bullitt Counties acquired early Spring 2021 is now available on LOJIC. The 2021 imagery, captured by EagleView, is 3-inch resolution, 4-band (red, green, blue, near infrared). All LOJIC desktop and web applications now include the new 2021 aerial imagery.
Capturing imagery for the nearly 1,000 square mile, tri-county area required over 100 flight hours and 662 flight lines flown at an altitude of 3,200 feet.
The 2021 imagery and LiDAR elevation data will be used by the LOJIC team to identify areas of change that require map updates. Planimetric data (buildings, roads, parking lots, driveways, etc.) and hydrographic data(streams, ponds, etc.) will be updated in areas of new development and major construction. Topographic data (2-foot terrain contours) will be updated over the entire county area. Updated map data will be completed in 2022.
As a result of flooding evident on the new imagery along the Ohio River from Waterfront Park into a small area of southwestern Oldham County, EagleView will capture new imagery of Jefferson County in the Spring of 2022.