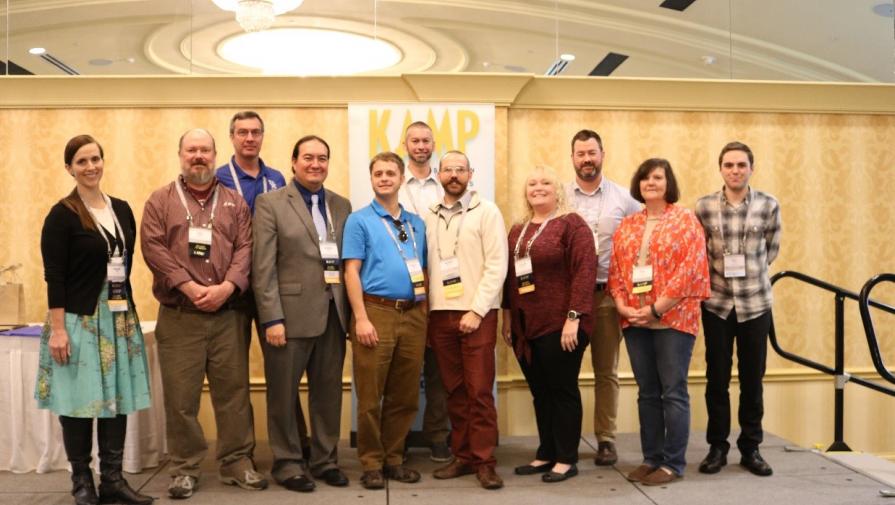 2020 KAMP Executive Board with President-Elect Andrew McKinney (front center)
Louisville was the host city for this year's Kentucky GIS Conference sponsored by the Kentucky Association of Mapping Professionals (KAMP), held at the Crowne Plaza Hotel October 9-11. This year's conference was attended by over 300 GIS professionals from across Kentucky and the region.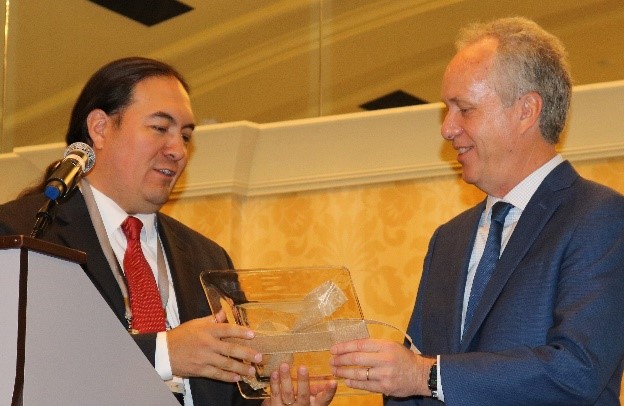 Metro Mayor Greg Fischer opened the conference with a welcome to attendees and spoke about the many ways our community encourages innovation and uses technology, GIS in particular, for emergency response, infrastructure maintenance, urban planning, flood protection, and promote a safe, clean, healthy city.
Keynote speaker Bill Hodge, Executive Director of the GIS Certification Institute (GISCI), presented a history of the GIS/mapping profession and the evolution and future of GISP certification.
Day-one of the conference program consisted of eight half-day/full-day technical workshops conducted at JCTC-Southwest. Esri provided their mobile Hands-On Learning Lab (HOLL) for all-hours walk-in use during the conference. The conference gallery and judging of printed maps and Story Maps submitted by attendees was a popular display each year. 
The program for October 10-11 consisted of over 50 presentation sessions on a wide variety of GIS and mapping topics, with several by the following members of our LOJIC user community:
Nathan Smith, Metro Public Works – Asset Collection Using Esri Collector
Valerie Viers, Louisville Free Public Library – Louisville Free Public Library and the Linguistic Communities We Serve
Scott Stepro, Metro Public Works – Louisville Metro Clean Collaboration – 100 Days to Clean
Curt Bynum, LOJIC Manager – Moving to Web GIS: Transforming and Organization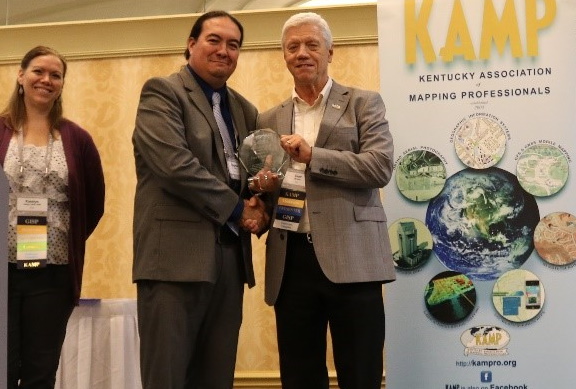 LOJIC staff and user community always participate in planning and organizing the conference and this year was no exception. LOJIC's Scott Dickison coordinated exhibitors and sponsors, LOJIC's Chris Alldredge organized KAMP officer nominations and conducted elections. Metro's Andrew McKinney and Scott Stepro organized the conference session program, speakers and moderators.
During the annual KAMP business meeting during the conference, Metro GIS Coordinator, Andrew McKinney was elected KAMP President-Elect. In this role, Andrew will serve as the chairperson for the 2020 Kentucky GIS Conference. LOJIC Manager Curt Bynum received the KAMP President's Award and was named a Fellow of KAMP for his many years of service and support to KAMP and Kentucky GIS/mapping community.